LAS VEGAS AIRPORT | GUIDE TO LAS VEGAS AIRPORT (LAS)
Origin
Airline
Flight no.
Scheduled
Est./Actual
Status
No flight arrivals were found at Las Vegas Airport.
Destination
Airline
Flight no.
Scheduled
Est./Actual
Status
No flight departures were found at Las Vegas Airport.
Car Hire at Las Vegas Airport
UNBEATABLE VALUE CAR RENTAL
Free Amendments | Free Cancellations | No Card Fees




Las Vegas Airport - All Information on Las Vegas Airport (LAS) Las Vegas Airport
5757 Wayne Newton Boulevard, Las Vegas, Nevada 89119, United States
phone +1 702 261 5211
phone+1 702 261 5134 (Lost + Found)
call_end+1 702 597 9553 (fax)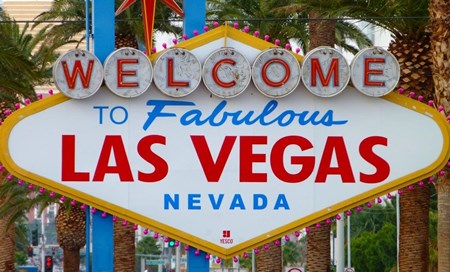 The Las Vegas prime airfield is the McCarran International Airport with the official IATA code: LAS, FAA LID: LAS and ICAO: KLAS it is the major commercial airport that serves Clark County Nevada and Las Vegas. The facilities are currently accommodating around 50 million passengers per year.
The airport is located 5 miles south of Las Vegas central business district. It covers 2,800 acres of land with four runways. It was renamed to Harry Reid International Airport in December of 2021.
McCarran International is also the busiest airport of Las Vegas. In 2010, it ranked 22nd globally for passenger traffic. It was also ranked 9th in the world for its aircraft movements covering 505,501 landings and takeoffs. The airport serves as the focus city of Southwest Airlines and Allegiant Air. It also serves as the biggest base of operation of these two giant airlines.
In November of 2009, Southwest Airlines was noted to have increased its flights going out of McCarran. The airline is also carrying a bigger number of air passengers in and out of. Currently, Southwest is operating out of 21 gates specifically in Concourse C. While in 2008, West Jet, a Canadian airline has been the largest international air carrier for McCarran.
The top five listed scheduled airlines at McCarran with the largest number of passengers are: the Southwest Airlines with 38.3%, the US Airways with 11.8%, the United Airlines with 6.9%, the Delta Air Lines with 5.6%, and the American Airlines with 5.5%. These are based from the 2009 statistics on passengers going through the airport.
McCarran International was established from Alamo airport way back in 1942 on the same site. It was founded by Davy Crockett. Later in 1948, Clark County was able to purchase the airfield from Crockett and build the Clark County Public Airport. Thus all of the commercial operations were moved to the new location. It was on December 20 of 1948 when the establishment was named after US Senator Pat McCarran. Senator McCarran is a longtime Nevada Political figure who is known for his efforts in the development of aviation across the country. He became popular when he authored and endorsed the Civil Aeronautics Act.
When it was named after Senator McCarran, the airport was already serving an average of 1.5 million passengers every year. In March 1963, the locations of current terminals were moved from Las Vegas Boulevard South to Paradise Road. Wleton Beckect and Associates designed the terminal together with John Replogle who took inspiration from the TWA terminal at JFK.
Senator Howard Cannon proposed for the Airline Deregulation Act in 1978. This gives freedom to airlines not to secure a federal government's permission when it flies to a city; instead it has to deal directly with airports in establishing additional routes. After the deregulation, the airlines that had been serving McCarran doubled from seven to fourteen.
Since then, the airport has adapted several system upgrades and changes to better serve the passengers. While in August 31, 2011, US Airways made an announcement that the airline will shrink its operation by way of cutting 40% of the flights out of Las Vegas. Thus in November 29, 2011 the airline carried flights only to Phoenix, Charlotte, Philadelphia, and to Washington Reagan National , its focus city.
Las Vegas airport serves passengers in two public terminals. The other terminals are used as private services for private aircraft, cargo, sightseeing flights, and US Government Contractors.
Terminal 1 is handling most of the flights that are contained in 96 gates covering four concourses. In this terminal International Airport People Movers did connect the satellite concourses D and C to the centralized baggage claims and check-in areas.
Terminal 2 is used for charter flight as well as for all international flights. Terminal 2 has eight gates. Four of these gates have been installed with facilities used in international flights.
Terminal 3 is used for all international flights and scheduled airlines. Terminal 3 has 14 gates while a people mover system shall connect Terminal 3 with Concourse D.
The Air Transport Association (IATA) code for Las Vegas Airport is LAS. The other name the airport is recognized by is Mc Carran International . We have provided the GPS location which are as follows 36.08333, -115.16667 to help either your arrival directions to Mc Carran International or perhaps give you directions from Mc Carran to your chosen destination.
Many popular hire car companies are located at LAS and are situated either in the Arrivals lounge or very close by. You will need to present a valid driving licence and credit card if you intend to hire a vehicle. It is wise before arriving to have pre booked your Las Vegas Airport car hire online.
Arrivals, Departures and Airlines at Las Vegas Airport
Hotels near Las Vegas Airport
There are a number of hotels to suit all budgets and requirements at or near Las Vegas Airport.
Parking at Las Vegas Airport
See options for parking services at Las Vegas Airport.
Additional Services and Amenities at Las Vegas Airport
At Las Vegas Airport you will find the usual array of bars and restaurants, airport lounges and shops.
Things to do in Las Vegas
There are a number of activities to suit all ages and interests in the region - see a selection of tourist activities in Las Vegas, Nevada in the United States of America.
Services at Las Vegas Airport
Useful Information about Las Vegas Airport